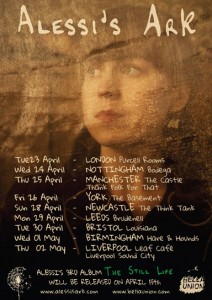 Chuffed to announce I'll be heading out on the road with Alessi's Ark for a UK tour and a few dates around Europe this April/May.
Alessi releases her third album 'The Still Life' on April 15th on Bella Union records (home of Explosions In The Sky, Flaming Lips & Fleet Foxes). We then start the tour at the Southbank Centre in London the week after.
The new album has quite a colourful, layered sound so performing these tracks as a three-piece should be interesting, but there's a few toys and tricks we've been playing with – rehearsals have been a lot of fun so far! I'll be playing a variety of instruments including electric guitar, bass, keys and melodica…
Listen to a couple of tracks off the forthcoming album below. If you like what you hear, do come along and see us – tickets links are here.