Guitar Lessons in the Morden area
Teaching for over 15 years.
Beginners to advanced. Children and adults.
Home studio close to Raynes Park, Morden, Sutton & Wimbledon – see map. If you require home visits, I can recommend a colleague.
Written and collated a huge amount of resources for guitar (view the song list).
Happy to work out songs on request.
Also teach bass guitar, ukulele, mandolin, songwriting and music production.
What songs do you teach?
I have a list of over 400 songs that I know well and have taught before. All of the music/tabs are checked for accuracy and many of the songs I have arranged or edited myself. You can view the
complete list here
– they are currently sorted by genre. You can also
download the full spreadsheet
to view in Excel.
I've also written several resources on strumming patterns, fingerpicking patterns, scales, arpeggios, chord theory, 12 bar blues theory and improvisation tips. I have a series of 'riff sheets' containing 20 of the most popular simple riffs in rock/pop that are an extremely fun to work through. I've also got a collection of hundreds of short lead guitar licks, demonstrating various techniques and scale types.
Finally, I often work out
songs on request
and really enjoy playing pupil-requested tunes that I wouldn't have otherwise have played. I've discovered a lot of great songs that way!
Contemporary guitar (particularly electric) is not designed as a solo instrument so for the vast majority of songs I teach, we will play along with backing tracks. At the end of the lesson, I'll email these to you at a manageable speed/tempo for your practice at home.
Can I split/share the lesson between family members or friends?
You are welcome to book a lesson that is split/shared between siblings, a parent/child or friends.
The price would be the same as if it were just one person, but an extra £3 per lesson. A one hour lesson is normally £45, so a split/shared 60 minute lesson would be £48 total.
This is because split/shared lessons will always involve more preparation and active teaching time than a more relaxed, slower-paced lesson with one pupil. But it still gives you a discount on the price for two. A 45 minute lesson shared would be £38.
Note that a shared lesson (teaching two at the same time) must be two people of the same standard who are happy to learn the same songs. Sharing lessons in this way is often not as efficient as it sounds. If one person is making progress faster than the other, it can mean much slower progress for one, and extremely discouraging for the other. It can often be better in the long term to split the lesson, and be taught individually.
Do you teach absolute beginners?
Yes! With beginners, I'm a great believer in getting to the point where you can play something that your ear recognises as fast as possible, even if it's just a song that uses two chords.
I have created a series of four sheets each with 5-7 quick songs on that use just a few chords that are easy for beginners to change between. We'll also have a go at some simple strumming patterns – rhythm is how the song comes alive and something that is rather difficult to learn on your own. We might also have a go at my series of riff sheets – over 20 simple short repetitive riffs that are great for beginners. There's a reason everyone plays 'Smoke On The Water' or 'Seven Nation Army' at some point…
Contemporary guitar (particularly electric) is not designed as a solo instrument so for the vast majority of songs I teach, we will play along with backing tracks. At the end of the lesson, I'll email these to you at a manageable speed/tempo for your practice at home.
With children, as well as simple one string riffs/exercise we will try some simplified chords. Sometimes, I recommend the book "Guitar Basics" by Nick Walker and James Longworth – although I always have spare copies, so there's no need to purchase the book in advance.
Do you teach grade exams?
I have guided pupils through many different grade exams, but I have most experience of LCME (London College of Music Examinations – previously RGT). They offer grades in acoustic, classical, rock, electric or jazz guitar (accredited by the University of West London). I have put pupils collectively through 40+ exams now, and all pupils have passed with either merit or distinction. The LCME syllabus is very well balanced – a strong emphasis on creativity and playing by ear, but also some great well-known songs to perform too.
I have some experience with Trinity Rock&Pop Guitar and Bass, plus Rock School electric and acoustic exams as well. If you have already done some of these exams with another tutor, I could continue those with you if you preferred.
I don't have a guitar. Do I need one? What should I buy?
You are welcome to borrow a guitar of mine for the lessons at any time. However, you wouldn't be able to take it home to practice, so wouldn't get good value from the lessons. It could make sense to try a single lesson first to see what it's like, and then purchase the guitar afterwards. I also don't have any children's sized guitars, but we could often use a small-bodied full size one, or even just play a ukulele.
Once you are ready to buy a guitar, feel free to chat with me about what you would like. If you are a beginner, you can see some suggestions on guitars you might want to purchase here.
Can I buy lessons as a gift for someone else?
Yes, I can take payment online and send you a receipt and voucher through the post. The voucher is a nice thing to put in a birthday/christmas card to be opened on the day. You can purchase any number of lessons – a single lesson, right through to the '9 for price of 8' package. There would be no commitment to continue after the lessons are taken.
What age should you start? Is my child too young?
There is no definitive answer to this, but I would recommend being at least six. Even then, it can be a hard going initially. But sometimes I've had five years olds get on surprisingly well.
I have sometimes started younger pupils on ukulele and then graduated to guitar. A lot of chord shapes are the same on a ukulele and there is a good crossover, much in the same way recorders lead well to the flute (although ukulele sound infinitely better than recorders in my opinion!)
We could also start by not playing the guitar/ukulele for the whole lesson. There are various games we can play with rhythm and clapping, and we can try singing songs also.
I am recently DBS checked – please ask to see this if required.
Do I have to learn music theory? Can I just learn songs?
I'm happy to do whatever you like. I think I'm probably more flexible than most tutors!
It all depends on the type of guitarist you want to be. It's not initially important to be able to read music notation, but then if you don't read TAB either it becomes rather hard to remember your whole repertoire. However, some guitarists have a strong ear which is an excellent way to play.
It's about balancing the amount of music theory that you need – I think it's important to have a good grasp of what you're doing and why it works as you're playing, but too many tutors go too far with this.
Can you do home visits? Would you come to me for lessons?
I'm afraid I'm just too busy to travel to lessons at the moment.
If you would prefer someone to come to your own home, or even looking for lessons in a different part of London, there are colleagues of mine that I could put you in touch with. I work with a group of tutors over at London Guitar Lessons. Just get in touch with me on this site and I can get you something booked in.
Can I drive, and park nearby? Can I get the bus?
There is car park with 16 spaces right next to the entrance to my flat. It does have a sign saying "residential parking only" but please do park in there if there is reasonable space. Otherwise, on street parking is free anyway.
Also note that it is a second floor flat, meaning there are some stairs to climb.
Buses numbered 163, 413 and 293 regularly stop just on the main road – a 30 seconds walk away. These buses mean it is a very short journey from Raynes Park and Morden, but easy reach from Wimbledon as well. It is an estimated 10 minute walk from the 93 bus stop on Epsom Road.
What genres do you teach?
Many of my pupils choose the rock/pop route, but classical, folk, blues styles can all be taught to at least an intermediate level. I've also taught slide guitar techniques, beginner flamenco or jazz, songwriting, music production, mandolin, bass guitar and ukulele!
Do you do lessons online (Zoom/Skype etc)?
Yes, I'm happy to teach online if you prefer. After the pandemic, I've got rather used to it. Some of my current pupils now have a mix of online and in-person lessons. It's a nice option to switch online if you're particularly busy that week.
With Zoom, I am able to share sheet music with you via the 'share screen' mode and annotate and make notes on it and email you them afterwards. I can also play you music tracks to play along to (and hear it in sync at my end)!
If you are able, please use a computer/laptop rather than a tablet/phone. Also, it is necessary to change the audio settings on a computer (so that Zoom does not determine the sound of the guitar as background noise). I'll send you full instructions, plus all the links to join the lesson when you book in.
---
GUITAR PUPIL CONCERT
Every year, I put on a concert for all my pupils of primary or secondary school age. This works well, as it can be something to work towards, as well as a lot of fun on the day. Here's the highlights from a few years ago:
I also run band sessions for anyone aged 8-16 to have a go at playing in a band, writing their own songs, recording them and playing gigs.
For adults, I have occasional groups of pupils that play at a local open mic night.
PRICES
£45 for 60 minute lesson
£35 for 45 minute lesson
£25 for 30 minute lesson
If you pay for a batch of 8 lessons, you receive the 9th lessons free.
There is a further discount for lessons on weekday mornings.
You need to give 48 hours' notice to cancel a lesson.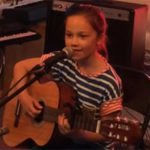 Issy, 9 yr old
"During the past 6 months, Issy has passed a Rock School exam with Distinction and successfully performed one of her favourite pop songs to a large audience in Dan's summer concert. Currently a typical 45 minute lesson includes preparation towards her grade exam alongside working on a varied pop repertoire which allows her to master new chords & strumming patterns whilst adding in vocals. He is an extremely adaptable teacher and has built up a great rapport with Issy who thoroughly enjoys her weekly guitar lesson. I'm really pleased with the progress she has made in 2 years."  - Stella (mother)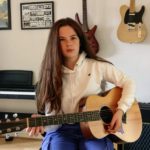 Lucy
"Dan has been teaching my 14 year old daughter the guitar for the past 6 years or so. He manages to make the lessons really interesting, and age-appropriate - she loves the riffs she's currently learning! And thanks to Dan's excellent teaching she's done really well in her guitar exams too!" - Catherine (mother)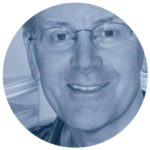 Richard
"I'd had two attempts at teaching myself the guitar in the past, but luckily found Dan. So many of the things I used to find tricky - barre chords, strumming patterns, muting - now come a whole lot easier. I've learnt all kinds of songs from right across my musical tastes and Dan seems just as happy helping me learn the subtlest of finger-picking blues as the latest AC/DC riff. He has a 'gently nudging' style, which works really well with me, and the lessons are varied, interesting and fun. Next stop is an electric guitar and maybe one day, sneak into a band somewhere at the back. Who'd have thought?"
Michele
"I am a very mature student of Dan's and I was an absolute beginner. He has given me the gift of playing the guitar with his patience and understanding. I couldn't have a better teacher."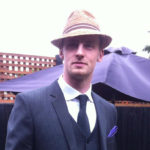 Joe
"I've been taking guitar lessons with dan for about two years now and find him to be a great teacher. Lessons are friendly and varied to give you a broad playing ability and include music theory to help you understand what it is you are actually playing. Everything covered in lessons is backed up with printed tabs and MP3's via email, which makes practice a lot easier. Dan's also very happy to help with any songs/solos not covered in lessons which you might be trying to play at home or for gigs etc. Also, there's ample parking, which is very handy."