There's a few things I need you to know. Three.
First – as it's a new year (academically speaking), I have a number of lesson slots available. If you, or anyone you know might want guitar lessons, do get in touch!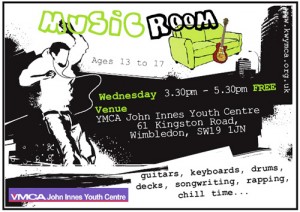 Secondly, this is a recommendation to any other struggling musicians out there – head to UK Music-Jobs. It has a lot of job listings on there, and looking back, it has been pretty helpful in getting me into many of the things I'm now involved with.
Thirdly, we've started Music Room again in Wimbledon at the YMCA John Innes Youth Centre. If you know anyone of secondary school age in the South West London – they can try guitars, drums, bass, DJ decks and audio production with us for free! See flyer to the right for details!